"Our future coast line": development of sustainable coastal management strategies responsive to climate change
Project: "Our future coast line": development of sustainable coastal management strategies responsive to climate change
Client: Communautés de Communes de Granville Terre et Mer, Coutances Mer et Bocage, Côte Ouest Centre Manche, Ouest Cotentin
Categories: Environmental Economics, adaptation to climate change, stakeholder involvement
Start date: May 2016
End date: 2019
Our partner: Rouge Vif Territoires, Antea Group, LGP
OBJECTIVE
Elaboration of local sustainable coastal management strategies responsive to climate change in western Cotentin.
Three phases: risk assessment of local climate change hazards and challenges (20-, 50- and 100-year time frame), sharing of results and co-construction of coastal  scenarios,  development of coastal management strategy.
OUR APPROACH
Our focus was on evaluating economic challenges, coordinating sessions for sharing assessment and co-construction of coastal scenarios, and economic analysis of desirable scenarios.
A pragmatic economic approach
Regarding risk assessment, we quantified what is at stake regarding erosion and submersion over a 20-, 50-, and 100-year time frame. This economic assessment involved residential and industrial construction, agricultural and shellfish activities, tourist accomodations, roads, and natural environments.
Regarding economic valuation, we are performing a cost assessment of desirable scenarios followed by a multi-criteria analysis to assess non-monetarized aspects and the intangible (positive and negative) impacts of different scenarios. This type of approach enables comparing costs and benefits between various scenarios. We value a transparent approach to avoid the "black box effect", clearly explaining the input data used, the underlying assumptions (and their justification), and the calculation methods and their limitations.
Collective intelligence supporting the ultimate strategy
Territory elected officials greatly desired a collective mobilization to elaborate strategy: co-construction workshops involved various territory stakeholders (inhabitants, local NGO, elected officials, economic stakeholders, etc.) in defining the management scenarios. The methodology involved applying collective thinking to a fictitious territory in order to facilitate an unbiased assessment of the actual territory.
Workshop participants were assigned the roles of coastal stakeholders (different from those in their "real life") and tried several combinations of adaptation options (strong defense, moderate defense, adaptation, resettlement) on the fictitious territory. These workshops resulted in major lessons learned as well as several contrasting scenarios, which are expected to evolve into final desirable scenarios.
RESULTS
Analysis of territory erosion and submersion
Coastal change within 20, 50, and 100 years
Quantification of coastal stakes at risk
Public sharing of the results
Co-construction and economic analysis of coastal management scenarios
Translation of the adopted strategy into action plans. (upcoming)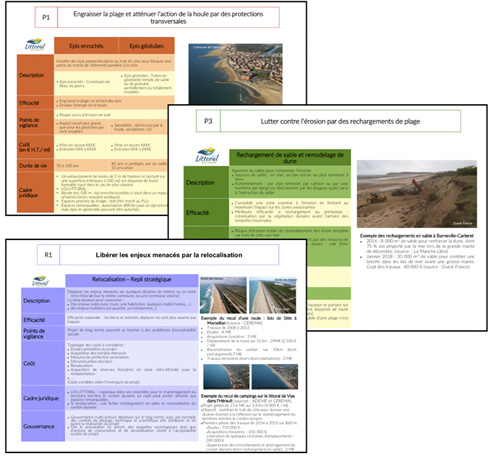 This post is also available in: Français